House for sell

We' ve envisioned the design of our homes using the distinct characteristics of the traditional Thai house. It has allowed us to picture what the simple life of Thais was like in the past.We' ve collected all this information and established 80 parcels of land, from 60-165 sq.metres with each meeting the requirements of convenience, comfort and beauty.
There are two styles of homes to choose from, an original Thai-Lanna style home and a modern Thai-style home with design and decor that give off the true senses of being Thai.
Baan Lanna Thai Property is built using the finest quality teak wood and other hard woods. Feel safe from termites with an underground extermination system that utilises insecticides that is not harmful to the inhabitants.
The roofing is laid out with quality clay tiles of tradition Thai homes and is insulated with quality insulation to keep you cool and safe energy. Awnings are installed throughout to help to deflect rain, reflect the sun's ray, keep the home cool and in turn help to prevent global warming.
Value-added beauty along with services and amenities. Each Baan Lanna Thai Property home is furnished with functional Lanna-style wood furniture. There is also an underground water tank and backup electricity supply in case of emergency.
Baan Lanna Thai Property is designed to be Each home contains amenities that cater to all members of the family, while preserving the comforts of Thai living in the past. Baan Lanna Thai Property emphasises the importance that each property meet the demands of its residents. All homes have plenty of windows to allow fresh air to flow throughout the home and high open ceillings to let the cool breeze circulate. For every member to be able to enjoy more family time together, every room is designed to connect with one another throughout the house.
Distinctive quality through and through. Thai-style architecture of the past was simple. Design influences of the time, came from the natural surroundings, local materials and from local artisans, craftsmen and builders. Baan Lanna Thai Property incorporates all the best of the past and blends it with the beauty of art to make living at Baan Lanna Thai Property a pleasurable and unique living experience.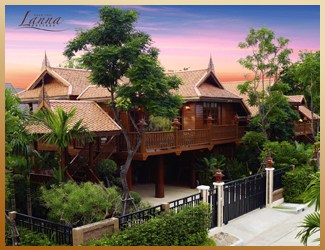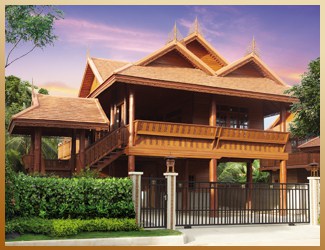 Home is where the heart is and designing a beautiful home is at the heart of each Baan Lanna Thai Pattaya. Aside from being designed with comfort for today's lifestyle in mind, Baan Lanna Thai Pattaya also displays the distinct quality and artistic design of a Thai home that is passed down from one generation to the next.
The open space or basement of a traditional Thai home is a unique feature that is gradually fading away. Beneath Baan Lanna Thai Property is an open space similar to those traditional Thai houses of the past that, allows for a flow of air to pass, prevents flooding and animals from entering the home.
Baan Lanna Thai Property's basement is designed with convenience in mind, including a spacious Thai outdoor kitchen and an outdoor laundry area, all surrounded by a beautifully landscaped garden.
The spacious Thai kitchen is outfitted with quality kitchen appliances from TEKA, high-grade, durable counter top and a dual gas, electric oven for your convenience.
All family activities at the Baan Lanna Thai Property takes place on the terrace, a communal area for family and friends together. In the past, the terrace of a traditional Thai house was considered just as important as the bedroom or kitchen of the house, because it served many purposes such as allowing fresh air to flow throughout the house, welcoming guest and as a lookout for trespassers, and also a space for growing a garden.
The terrace today has become a gathering place for the family to share quality time together, participate in family activities, welcome and entertain guests or just to relax and enjoy the natural surroundings. We've designed the spacious terrace to accommodate all your family's activities.
Feel safe all day and night with CCTV cameras installed throughout the estate, and round-the-clock security guards for added security. There is also a reception area at the gate for visitors to exchange ID to enter the estate.
The tree-lined roads within the estate are 12 metres wide and there are sidewalks and grassy areas to enjoy.
You'll also have access to the Internet via TOT service.